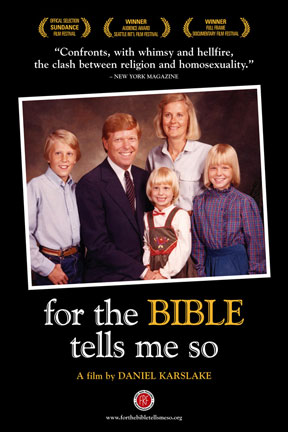 I just got this movie from Netflix and was half-tempted to reseal it and just send it back. I've been off the documentary kick for awhile and wanted to move onto better things in my queue (like Golden Girls series 3) - I'm very glad that I took the time to watch this film.
If you are a practicing Christian of any sort, or not, but you feel that you derive even a small portion of your spiritual concepts from The Bible, then I highly suggest you take the time to watch this movie.
The movie details how religious leaders have taken portions of The Bible and have used them to demonize people being gay. It covers their incorrect assumptions on the things they read in The Bible, as well as their ability to accept certain passages as the literal word of God, but completely disregard other ones that read just as literally. It also explores how this impacts several families and how the parents came to terms (or not) with having a religious upbringing that degraded and demonized gay people and then having a gay child.
It's an amazing look at this whole concept thru fresh eyes and different perspectives and helped clarify and understand some things I didnt even realize I was confused on. Just a good watch overall.
Movie:
For the Bible tells me so