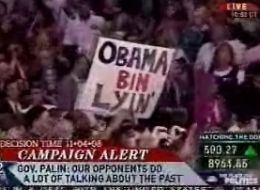 Okay something's not right about this. This was a sign at the McCain rally today. In fact a person right next to these people had one as well. Both signs colored in with the same type of marker and similar "font" style.
The thing is that campaign rallies like this dont allow you to bring in homemade signs like this. When you go to a rally, they actually hand out the "rally" signs (official ones) and "homemade" ones that people make or are cleared that people have brought to the event and then are re-handed out to people near the front.
So one of three things happened here. Either these people snuck this sign in (which is doubtful since there are no signs of folds or bends). Or someone brought this, it was taken and screened at the door and re-handed out. Or the McCain Advance Team made this sign (which both sides do) and handed back out to the crowd.
Given the first option is the least least likely that only leaves the other two.